What would inspire a cockroach to create…

"The Most Unusual Recipe Book On The Planet"
Yes, it's strange. But who can argue with a roach that has made up his mind to bring that to the world? One thing that Billy Bob knows for sure is that he likes to eat.

But who is Billy Bob, really? What in the world makes him tick? Well, he is probably not like you and me. Or, maybe he is.

Billy Bob looks for the upside in life. He believes that there is always a way to get what you want in life. You just have to figure it out. He tries to set a good example for roaches everywhere, but his inspiring motivational messages are enjoyed by humans, as well.

Once Billy Bob achieved his big dream to move to Texas, he didn't slow down a bit. He couldn't wait to get on the road and sample some different foods – cheesy and greasy, especially. Some may think that Texans only eat tacos, chili or BBQ. Well, some may do that, who knows? But Billy Bob was eager to enjoy other taste treats, as well.

Having a serious sweet tooth to satisfy, Billy Bob especially enjoyed the chocolate dessert recipes that he managed to bribe from a few of the cooks.

Even though the cooks were surprised at having encountered a cockroach food connoisseur…in the end, his charms won them over and they agreed to comply with his wishes for them to share a recipe with him. In turn, he promised them that he'd never ever reveal that he had been a visitor in their kitchens. They do have reputations to protect, you know.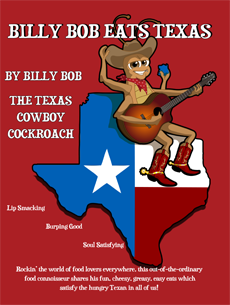 Paperback: 206 pages
Contains: Recipes and
The true life story of Billy Bob the Texas Cowboy Cockroach
ISBN-10:1456423916
ISBN-13: 978-1456423919

View High Resolution Image
Front Cover Back Cover
Finally the time had come to do up his recipe book and it remains to be seen if the world is ready for this. But all that really matters to Billy Bob is that you are ready for it.

If you'd like to purchase a personally autographed copy of BILLY BOB EATS TEXAS, you can order directly from this site. See the order information link on this page. Billy Bob would be mighty pleased to honor your request.

It's been a pleasure…thanks for dropping by!